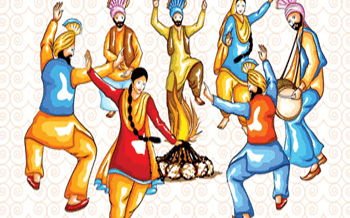 Lohri is exclusively a Punjabi festival celebrated in Punjab, it is also celebrated in northern sates of Haryana and Himachal Pradesh, it marks of the end of winter months welcoming warmth from the sun's rays, it is celebrated on the last day of the paush month and the beginning of Magh month, it is during this time, the sun changes it course. it is also seen as the harvesting festival.
Lohri is celebrated by worshipping fire by burning wood with cattle dung. The fire of lohri is symbolic and pays homage to sun god, the song sung during lohri
"Where have the sweaters and heaters gone?
To the mountain of gold, Where's the golden mountain gone?
To the ray's of sun, Where has the sun's ray gone?
To the sun, Where's the sun gone?
To the fire
The fire burns, the ray warms
The snows melts, the cold days have ended."
Legend of Lohri and Folklore
There is this one interesting folk legend associated with lohri and the central character of this folk-lore is Dulla Bhatti. As per the Punjab's cultural history Dulla Bhatti was like the olden days Robin Hood, he stole from the rich and gave to the poor, people loved and respected him. He once rescued a girl from her abductors and adopted her as his daughter and then finally got her married. He was later captured by Mughal king for revolting against the kingdom and was finally laid to death.
The mirasis (street singers) would sing songs dedicated to Dulla Bhatti
"Dulla Bhatti ho!
Dulle ne dhi viyahi ho!
Ser shakar pai ho!"
(Dulla gave his daughter a kilo of sugar as a marriage gift).
After many years this song is still sung in the villages of Punjab till date
Sundri Mundri Hei! Hoi!
Tera Kaun Bechara! Hoi!
Dullah Bhatti wala! Hoi!
Dullah Di Dhi viyahi ! Hoi !
Sher ShaKar pai! Hoi!
Kuri de Mamme aaye! Hoi!
UnaNe ChuRi Kuti! Hoi!
Jimidari Lutti! Hoi!
Ik kola GhuT Gaya!
Jimidar Apni……
Celebration!!
Lohri is associated with fire and like water it is a symbol of transformation and also regeneration, it represents sun which through its rays stimulates corn-fields and well-being of humans and animals. Sun is the image of energy which also provides spiritual strength hence Lohri is sanctified and venerated as deity. On the day of lohri people offer popcorn, sweets made of til (sesame seeds) like revari and gajak to appease the fire which is a symbol of Sun God.
Happy Lohri – May this festival of zeal and verve fulfill you life with energy and enthusiasm