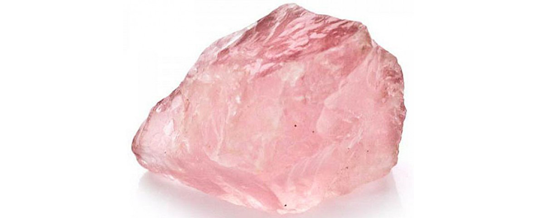 Rose quartz is known as the gem that seems to be blessed by goddess Laxmi herself, it represents Goddess Laxmi.
It overcomes financial troubles and fights misfortunes and is also useful in maintaining an equilibrium between materialism and spirituality.
This stone is known as the powerful talisman and is considered the king of all gemstones. Rose quartz that is available in the coordination of 9 triangles is considered to be very powerful and is known to bestow peace and prosperity upon the wearer or holder of the stone.
Rose quartz is the only gemstone that not only helps the native overcome financial troubles but also offers calmness of heart, it is also considered as substitute gem or symbolic emblem of love.
Gemstones like rose quartz bring peace, harmony and wealth upon the wearer, individuals can also store the gem in office or home to attract wealth and peace.
The natives that reside within the vicinity of this gemstone attract co-operation of others thus fuelling their humane qualities.
Scientists believe that this gemstone gets its color from titanium, manganese and iron impurities, but it's the minerals in the crystal that gives it the rosy pink color.
Benefits of Rose Quartz:
The worship of Rose Quartz is considered to be auspicious for attaining fame, success, honor, peace and wealth.
It is known to solve financial and love troubles.
The powers treasured in it paves way for the native to attract multiple incomes.
It is known to ward off evil and negativity, it helps the meditator gain tremendous focus.
It is known to maintain stability and balance to lead a happy and prosperous life.
What you should know about Rose Quartz